Marathon Training with Renato Canova:
From early 2011 to the end of 2014 I was Renato Canova's Assistant Coach. Together, we coached Abel Kirui to an Olympic silver medal and two world titles and Florence Kiplagat to 2 world titles a world record and multiple World Marathon Major wins. Of course, Renato was the driving force behind these successes. I was there to assist, help and learn, but I do feel we made a formidable partnership and that some of those lessons are worth sharing. 
In this series of blogs, I will explore some of the key lessons I learned from my time with Canova, trying to go beyond the bog-standard details of the workouts of themselves. Canova's training programs are well documented, and although I do see common errors in how they are reported online, the basics of his 'system' are well known.  I will instead try to explore the thought processes and the intricacies behind his coaching and how I implement them with athletes I work with now. 
Part One:
"Abel, Be Tranquil"
Whilst tranquillity is of course an English language word, it isn't one that's used all that often, and probably even less so in the world of marathon coaching. So I was a little amused when, in my first few weeks with Canova in Iten, "Abel, be tranquil" was one of the phrases I heard him use repeatedly during workouts on the red dirt roads of Iten with marathon great Abel Kirui. 
I came from a world where coaching was essentially about 'motivating' people to run faster and run harder. The majority of coaching I had experienced up until this point had involved yelling at athletes to 'keep it up' to 'keep pushing' or 'go go go'. Yet here I was sitting alongside Renato Canova in the Toyota pickup truck that we followed workouts in, writing down workout splits and notes as he drove, observing him winding down the window to shout 'Abel, be tranquil' at one of the greatest marathon runners in the world. 
I thought coaching great marathon runners would be about finding ways of making them push just that little bit harder than anyone else. But here we were encouraging Abel to find a state of tranquillity. "To be free of disturbance; calm" according to the Oxford Dictionary. 
Over 4 years of coaching day by day with Canova, I came to understand that despite the somewhat unusual phrase, tranquillity is the very essence of marathon training and racing. 
When you are working with competitive marathon runners, (not necessarily elite, but those who run marathons to see how fast they can be, which is the area I enjoy working in), your job is rarely to motivate them to do more or to run faster. Rather, it is to ensure that you and they stay calm and composed throughout a long marathon build-up going into race day with the skillset to stay calm and composed throughout the long and arduous journey from the start to finish line. 
In my experience, competitive marathon runners are perfectly willing to work hard. The challenge is not to get them to train hard or to commit to putting in the necessary hours/miles. They have plenty of enthusiasm for this, but with this enthusiasm comes a tendency to push too hard in training. Thinking that an easy run 20 seconds a mile is better than one 20 seconds slower, thinking that if you are not crawling off the track at the end of your Tuesday night intervals then you haven't worked hard enough.
This is the opposite of the situation we were creating in Iten and where the idea of tranquillity in marathon training comes into its own. 
Many a marathon has been ruined by over-enthusiasm on the part of the coach in the build-up or the athlete on race day. Always wanting a little bit more and a little bit more, and never learning the patience that is required to race over 26.2 miles. Marathon is often less about pushing hard and more about holding back, holding back, holding back then moving into race mode at just the right time. 
You can't be excited for 26 miles worth of running. If you are, you will simply go out too fast, burn too much energy and not have sufficient mental or physical reserves to finish strongly with a negative overall result. 
The same is true in training. I'm not saying it's a case of less is more, I'm not telling you that you don't need to train hard. On the contrary, volume is usually your friend as a marathon runner. But you can't force yourself through 12 weeks of hard marathon build-up and long runs. Instead, you must use this training period to learn patience, and how to run within yourself even at high speeds, staying just the right side of that redline of intensity. 
The volume itself is going to come and bite you somewhere down the line. At that point, you will need to shift mindsets to extreme focus, but if you have already been pushing aggressively before the bite comes, then your chances of maintaining your pace are slim no matter how 'mentally tough' you are and no matter how many times you've practised suffering in training. 
This patience is what we practice in training. And in turn, it allows you to run higher volume workouts and subsequently improve marathon-specific fitness more than the typical push push push approach. 
This applies just as much to an entire training block as it does to an individual workout. You can't force yourself into good shape and you shouldn't try to.
The marathon is one of the only events in which people tend to pick a precise desired outcome many months in advance. 'I'm training for a sub 3', 'I want to go under 2hr 40 in London' for example. 
This is all well and good in that it provides people with tangible goals and keeps motivation high. But it encourages the situation where runners are constantly measuring themselves against this end goal. A coach sets intervals at marathon pace, or a long run at marathon pace + 30 seconds per mile, and all of a sudden the pressure is on to prove that you are capable of that workout and therefore on track for race day. This might be 7 8 9 weeks out from the marathon itself, and as well as that motivation we previously mentioned is also creating stress and worry. 
Marathon training isn't about trying to prove to yourself that you're in certain shape, it's about a methodical and progressive increase in load to increase fitness gradually right up until race day. As my own coach says "we train to improve fitness not to prove fitness."
After all, there is no set formula that says you must attain certain splits in training in order to run a given pace on race day. So getting het up on splits in training is probably wasted energy anyway, and it's absolutely not creating an environment of tranquillity. 
In Iten, Canova would rarely talk about race day pace or splits with athletes in marathon prep. In training, they knew what intensity was expected on a given day and the focus was then on maintaining that rhythm and intensity for the duration of the workout with the minimum of fuss. Staying level-headed and calm…
So next time you are out on a long run, or in the midst of a long interval session, instead of seeing how much you can hurt and suffer, try concentrating on how calm you can stay. Can you keep your mind free of stress and worry, and just let the laps/miles tick off. It isn't a state where you let your mind drift or daydream. You are very much in the moment and focusing on the here and now, but you are just allowing things to be as they are. Stop trying to chase fitness and see how the fitness now comes to you instead… 
If you are tempted to push that little bit too hard early in a workout just remember the phrase 'Abel, be tranquil' and hold yourself back just that little bit and finish feeling in control. 
Next time I'll look at some of the ways that this overall approach to marathon training allows us to build higher volumes of marathon-specific running and why this is important to you. 
About the Author:
Gavin Smith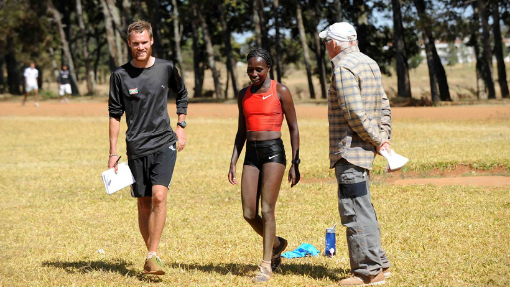 Gavin Smith is the Co-Founder of Kenya Experience and Running Trips. He is a distance runner and formerly a coach to some of Kenya's most decorated athletes. He graduated from Loughborough University in 2007 and lived in Iten Kenya from 2010 – 2014 where he was Assistant Coach to Renato Canova one of the world's most celebrated distance running coaches. He now lives in Loughborough with his wife Lauren, Son Jacob and Whippet Yego.
Read more about Gavin and his Coaching here.
---
Running Trips provide training camps for runners of all levels in Kenya and the UK. 
Kenya Experience 
Combine a serious training camp with a cultural immersion into the world of Kenyan Running.
Enjoy the ultimate running holiday with Kenya Experience.
Training Focus Camps
UK-based weekend Training Camps. World-Class Experts, Small Groups, High-Performance Venues.
Improve your running with Training Focus Camps.